QUICKLIME LUMP WITH THE EXCELLENT QUALITY
14:04 - 17/01/2020
Calcium Oxide (CaO), also known as quicklime or burnt lime, is a cubic crystalline solid occurs, which has many practical application life and industries. Dong Son pacific company limited provides pure and high-quality quicklime lump with the most competitive price. Our qicklime lump is quarrying at Ha Nam, it's biggest stone quarry in Viet Nam.
Calcium Oxide is accomplished by heating calcium carbonate (in limestone or seashells) to above 1000 °C, a process called calcination or lime-burning, to liberate a molecule of carbon dioxide (CO2), leaving quicklime. The quality of quicklime lump manufactured by Dong Son pacific company limited is strictly control from the mining step to heating. We choose the purest and highest quality stone quarries which meet our high standard to exploit in Ha Nam.
THE CHEMICAL COMPOSITION OF CaO POWDER: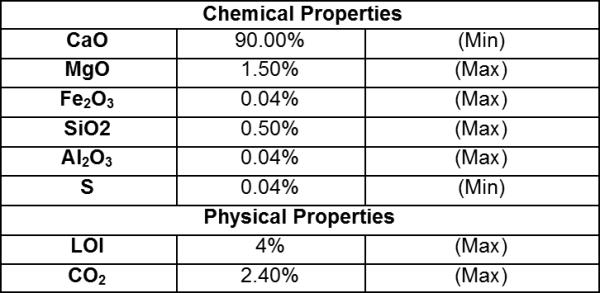 APPLICATIONS OF QUICKLIME LUMP:
Quicklime lump is widely used in many industries:
Construction Industry:Construction Industry:
Calcium oxide is a key material for the process of making cement thanks to the chemical reaction releasing Ca(OH)2
Glass and metal production
The chemical reaction between calcium oxide and silicate help to produce glass and other metal.
Environmental applications
Quicklime lump is used to control acidity in soil, as a base it reacts to neutralise the soil to reduce acidity (neutralisation reaction)
Ceramic production
Calcium oxide is a basic material offering attractive possibilities, cost wise, for the ceramic production of a basic refractory.
Other application
Quicklime lump has many other application such as thermal and plasma spray guns and other coating applications.